Westwood Wellness
Wellness is an active process of increasing awareness and actively making choices towards a healthy and fulfilling life. Many people understand the importance of exercise and training for optimal performance. However, rest and recovery are also important aspects of an exercise program. These elements allow the body time to repair and strengthen itself in between workouts and competitions.
At Westwood Wellness, we want to provide the best tools to improve your overall health and wellness. We understand that it can seem like there are not enough hours in the day, so we want to help you get the most out of your time – giving you more energy and less pain!
Westwood Wellness is located in Building #1 at Westwood Fitness & Sports Center. Our members enjoy free use of the HydroMassage beds, stand up tanning booths, infrared saunas and compression therapy. Spray tan, red light therapy, salt therapy, and an AlterG treadmill are available for use with a nominal fee. Non-members may also enjoy use of these amenities with the $15 Westwood Wellness drop-in fee (includes fitness and wood basketball court access), plus any other applicable amenity fees.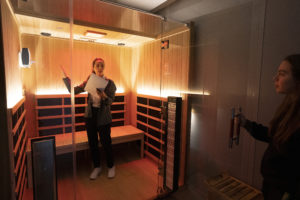 Westwood Wellness is open Monday through Friday from 5:00 a.m. to 8:00 p.m., and Saturday/Sunday from 6:30 a.m. – 6:00 p.m. Book a session and pay online up to 24-hours in advance at www.bit.ly/WestwoodWellness. Create an account by clicking "join," or login to an existing account. If you've registered for our programs online, your login info will be the same. We strongly suggest online reservations to guarantee availability. For more information regarding Westwood Wellness, visit our website at www.sterlingparks.org.