4-H, YMCA, Back to School and More!
The Sauk Valley has an abundance of opportunities and activities for today's youth.
4-H Club
When you join 4-H, you are joining the largest out-of-school youth program in the country. There are six million kids just like you across the country in 4-H, and 200,000 of them live here in Illinois. 4-H is in every county in Illinois. Whiteside County has lots of opportunities. Join a club, after-school program, workshop, attend camp, be a teen teacher, or participate in an event.
The 4-H year begins on September 1, and whatever your age is on that date determines how you join 4-H. Are you 5 to 7 years old? Then, you'll join a Cloverbud Club which has activities that are just right for you. If you are 8 to 18 years old, your 4-H Club will include a variety of ages, and each one of you brings something important to the club experience. Some clubs focus on one project area while others allow you to choose from dozens of projects to learn about. Clubs typically meet once a month and run parliamentary meetings, do community service, fun events, have guest speakers and more!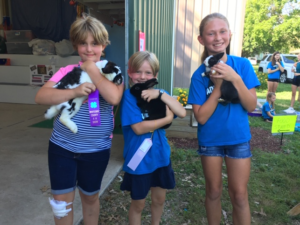 Parents want to get involved? There are many ways to volunteer, lead a club, teach a skill, judge projects, plan or help at an event, or serve on an advisory board. We can help you find a role that matches your skill set, interests, availability, and schedule.
If you are interested in learning more about the 4-H Program in Whiteside County, contact Allie Johnston, 4-H Program Coordinator at 815-632-3611 or lancast@illinois.edu.
YMCA
The Sterling-Rock Falls Family YMCA has something for everyone to enjoy!
Program Spotlights:
After School Program: The Sterling-Rock Falls Family YMCA offers an After School Program to help your child excel after the bell. We offer our After School Program for all four Sterling Public Elementary Schools: Lincoln, Jefferson, Franklin and Washington. Participants will stay at the school that they attend for After School Program. Kids will be able to participate in fun games and activities and a snack will be served. This program is offered Monday through Friday when school is in session. Registration information can be found online or at the YMCA.
Summer Day Camp: The Sterling-Rock Falls Family YMCA Summer Day Camp provides worthwhile summertime activities for children entering Kindergarten through 5th grade. The Y Summer Day Camp provides personal enrichment and fun new experiences. Camp counselors have extensive Y training and a genuine concern for children. Located at the Sterling-Rock Falls YMCA, our camp helps children develop their creative abilities, make new friends, learn more about nature, be active, and above all – have fun! This program is offered Monday through Friday while school is out of session. Registration information can be found online or at the YMCA.
Group Exercise Classes: Looking for a great workout? Your YMCA membership includes access to 30+ land and water fitness classes per week. All of our fitness instructors are certified and ready to help you achieve your goals. We also have a new spin studio with 13 Stages Spin bikes, and Personal Trainers on staff to work with you 1-1.
Youth Sports Programming: The YMCA offers year-round youth sports programming for Ages 4-8th Grade. We offer indoor and outdoor soccer, Jr. NBA Basketball, monthly swim lessons, flag football, cheerleading and MORE! Check out our quarterly program guide for more information and upcoming programs. Members receive discounts on programming.
YMCA Camp Benson: 
For more than 90 summers, YMCA Camp Benson has provided engaging, positive and life changing overnight summer camp programs for boys and girls ages 6-17. This has been accomplished through innovative, value-based programming supervised by experienced and caring staff members in a wonderful natural setting. Summer camp is what we do and summer camp is who we are.
YMCA Camp Benson's 113-acre campus in Mt. Carroll, IL and has been home to countless friendships, life lessons and summertime memories for generations of campers, earning YCB a reputation as one of the premier overnight summer camps in Illinois. Check out our website for more information and upcoming programs.
For more information on the Sterling-Rock Falls YMCA and its offerings, visit their website.
Sterling Public Schools
For more information on Sterling Public Schools, visit their website.
AREA SCHOOLS
Sterling Public Schools (K-12)
St. Mary's Catholic School (Pre-K-8)
Newman Central Catholic High School
Christ Lutheran School (Pre-K-8)
Rock Falls Township High School
Rock Falls Elementary Dist. #13 (Pre-K-8)
Montmorency CCSD #145 (K-8)