The Sauk Valley Area offers employment in many different industry sectors.  From education, healthcare and manufacturing to insurance, finance & banking, marketing, IT, accounting, and more, many careers options are available throughout the Sauk Valley area.
Sauk Valley Employer Spotlight…
When you join CLA, you have the opportunity to design your own inspired career. Career growth is about new experiences and exposure to different roles that stretch your comfort zone, expand your skills, and shape you as a leader. It's not so much about climbing a ladder or acquiring new titles — it's the discovery of your strengths and the outer reaches of your true potential. At CLA, you have the freedom to explore many opportunities, including your choice of industry specialization, service capability, career path, and mobility. Watch our video.
Wellness 
We create opportunities for our people to live well and be happy by focusing on their physical, financial, social, and emotional well-being. See CLA's offerings.
About CLA
CLA exists to create opportunities for our clients, our people, and our communities through industry-focused wealth advisory, digital, audit, tax, consulting, and outsourcing services. With more than 8,500 people, nearly 130 U.S. locations, and a global vision, we promise to know you and help you. For more information visit CLAconnect.com.
CLA (CliftonLarsonAllen LLP) is an independent network member of CLA Global. See CLAglobal.com/disclaimer. Investment advisory services are offered through CliftonLarsonAllen Wealth Advisors, LLC, an SEC-registered investment advisor. 
CLA is an equal opportunity employer 
All qualified applicants will receive consideration for employment without regard to race, color, religion, sex, sexual orientation, gender identity, disability status, protected veteran status, national origin, or any other characteristic protected by law.
Equal Opportunity Employer /AA Employer/Minorities/Women/Protected Veterans/Individuals with Disabilities
---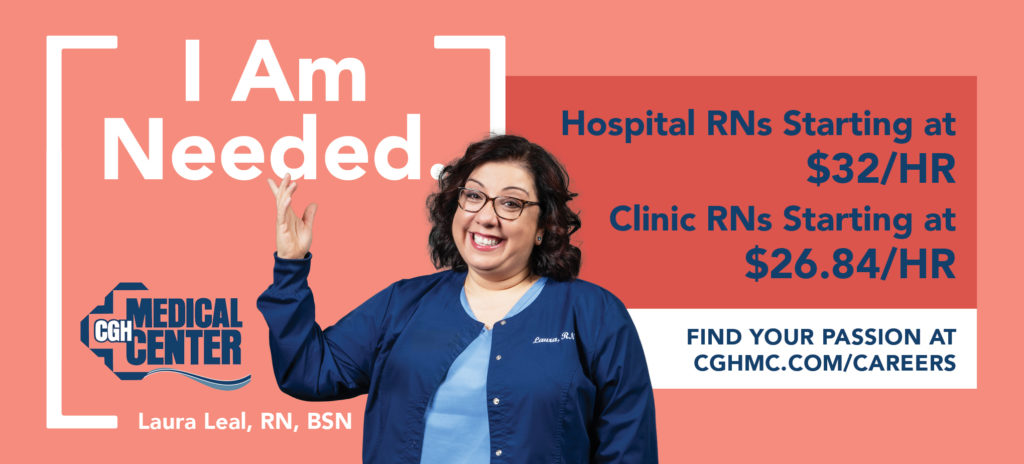 Our staff is growing and branching out to better serve you! Our employees are an integral part of our hospital. That's why CGH supports a climate that is serious about attracting, developing and retaining top talent. Growing in numbers—and also in skills and knowledge—our employees are meeting the expanding and changing healthcare needs of this community.
Just as patient satisfaction is a top priority, so is employee satisfaction. Our hospital takes pride in being a workplace that fosters teamwork, communication, innovation, initiative and professional development. CGH employees are supported with state-of-the-art technology, a positive environment and visionary leadership, all rooted in a philosophy of providing superior patient care.
Moreover, employees are empowered to share their opinions, ideas and perspectives, which lead to improvements in efficiency and productivity. Employee turnover is consistently low, and satisfaction is extremely high. CGH is not only a great resource for the community, it's also a great place to work.
Click for Career Opportunities at CGH Medical Center
Ready for a change? Check out these employer's websites for more information on jobs available in the region.